S

ome of the best places to ski in the world aren't necessarily the most accessible or the resorts with the most amenities. An amazing ski vacation means many different things to many different people; in our list below we've included some real powerhouses in the ski industry, and a couple you may not have heard of. So get ready for some adventure, some traveling and most importantly, some powder!

When it comes to superlative powder, epic runs and a myriad of totally insane mountain activities, there aren't many places that compete with Revelstoke. This small mountain town, which sits along the banks of the Columbia River and is framed by the vertiginous peaks of the Monashee and Selkirk Mountains and is home to North America's highest vertical run. At an astonishing 1,713m, this one's definitely not for the faint hearted! Arguably the only place in the world which offers heli, cat and lift skiing from the same base, Revelstoke is also home to more off-piste action than most European resorts combined. Recent additions also include a tube park and beginners area making Revelstoke Mountain Resort an amazing family resort as well. Set to become the greatest ski resort this side of the Atlantic? You bet your boots it is!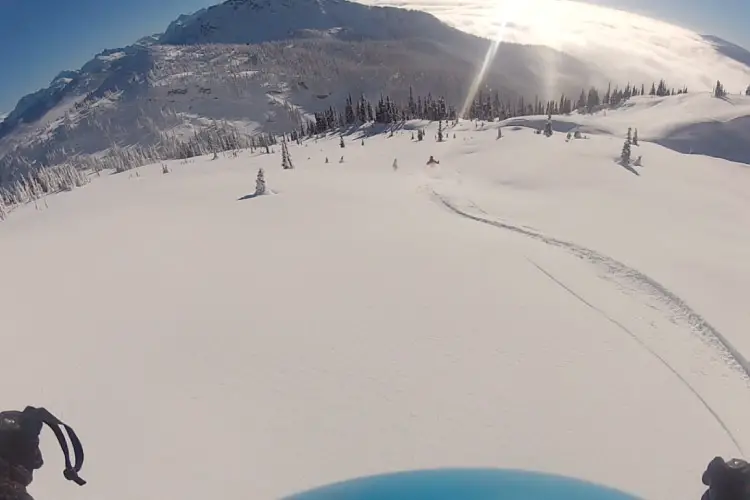 Zermatt is one of Europe's most revered skiing destinations, although this has just as much to do with the historic charm of the town, and the awe-inspiring sight of the mighty Matterhorn, then with skiing itself. Home to the highest altitude runs in the Alps, this ski-haven offers endless kms of superlative runs, culminating in a one way 21km stretch over a vertical drop of over 2,200 metres. Not only will you find runs suitable for all ski levels here, but you'll also enjoy the most picturesque alpine scenery in the whole continent. The best of Europe may come with a higher price tag, however with price comes quality and when you're standing face to face with the magnificent Matterhorn, you'll be so flabbergasted you may even forget how much this once-in-a-lifetime escapade will cost you.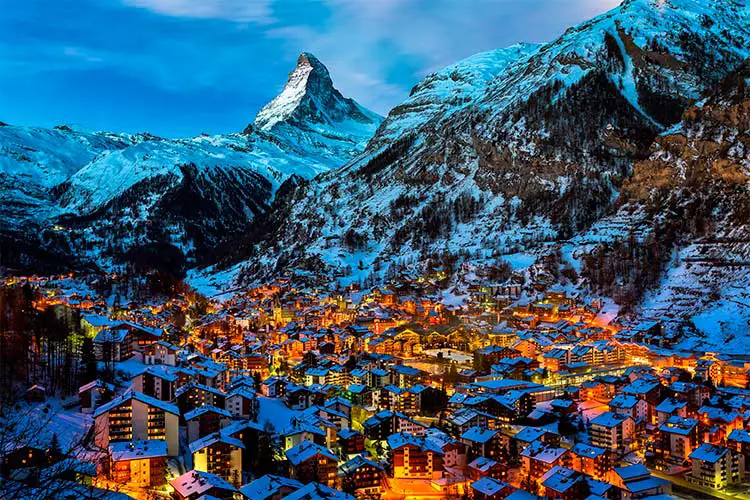 The birthplace of adrenalin pumping extreme skiing is an absolute must for all those who enjoy playing on the edge. On a good day, you can ski a 2.7kms stretch of superb powder in one swift go and have access to 11 zones over five massive regions, over expanses of peaks, ice towers, glaciers and crevasses. Add this to your bucket-list if you're a skier or snowboarder with a penchant for all things intensely wicked and do exercise some self-constraint. Although Chamonix's cover can be temperamental, when tackled on a good day with fresh snow, it is truly incomparable so patience here is a must. The runs can be as rough as the infrastructure, yet that's the old-world charm of this internationally acclaimed destination. Offering by far the most striking views of Mt Blanc, the highest peak in the Alps, Chamonix has it all: style, glamour…and perfect pow.
Cortina d'Ampezzo is one of Italy's crown jewels and a superb UNESCO protected gem which offers some of the most scenic mountain scenery in the world, so if it's just some relaxing skiing you enjoy, along with long, lazy lunches among spine-tingling surroundings, then this is the place for you. This most classic of snowy destinations is renowned as much for its glitz, glamour, good food and people ogling, than for the skiing. Yet considering the fact that we're not all Olympic-level experts, including the most stunning spot for beginner and intermediate skiers in our list is a no-brainer. Lagazuoi Valley, home to arguably the most beautiful red run in Europe, is an absolute breath-taker and an awesome place to learn. Cortina is also part of The Dolomiti Superski area, the largest ski carousel in the world which includes 450 lift system facilities and 1,200 km of slopes.
Girdwood is possibly one of the most glitz & glamour-free destinations in the entire continent, and super serious skiers love it for precisely this reason. Seen by many as the last skiing frontier, this remote and relatively unvisited hub of mountain madness boasts basic infrastructure, low crowd numbers and a healthy amount of runs. The Mount Alyeska ski area is the largest in the State and offers six chairlifts, one high-speed train a ski conveyor as well. Almost entirely suited to intermediate and advanced skiers, Girdwood also offers a small section at the base of its mountain for beginners, yet it's primarily seen as a hub for no-nonsense, hardcore powder aficionados. If you want the best snow at the least inflated prices then this is where you need to venture to.
Japan is an exotic destination which is often overlooked by serious skiers who are simply uninformed as to the world-class white action of this formidable country. Its proximity to ever harsh Siberia makes Japan not only Asia's top skiing hub, but an immensely kick-ass one at that. Skiing and snowboarding among ancient pine forests, and enjoying a night run on the extraordinarily lit 800m vertical slope is absolutely mind-blowing. Immense off-piste action and a myriad of relaxing onsen (hot thermal baths) make this one of the most rewarding skiing destinations on the planet.
If steep and deep is the name of your game then head to Snowbird and the adjacent Alta in the US, where you'll have over 4,700 acres of fantastic playgrounds to explore. The two resorts, which have been linked for a decade, offer incredible opportunities in high season, when they enjoy more than 12m of snowfall, on average. If it's your first time visiting, we highly recommend you hire a guide for a few days, as some of the most adrenalin-inducing runs are hidden even to the trained eye. Tackle double-black diamond terrain and steep couloirs for a snowy adventurous experience you're likely never to forget.
If you thought only Europeans can get away with flamboyant glamour on a ski run then you may be in for a pleasant surprise when you head to Aspen. This place is to Colorado what Cortina is to Italy: simply THE spot to see and be seen skiing. The town is sophisticated, the celebrity spotting epic and the snow, lest we forget, not too shabby either. One can literally ski down the second most vertical drop in the States, and straight into a super glam downtown cafe', without even batting a mascara-laden eyelid. There are four separate areas within a 16km radius and almost no green runs at all. Not only are visitors to Aspen seriously gorgeous…but they're also seriously good skiers to boot.
Bizarre doesn't even come close to describing Oukaimeden in Morocco; Africa's highest ski resort. If getting to the top of the peak of Jebel Attar on the back of a donkey is not enough (there's only one ski lift here), you'll also have to pick your $10 rental gear from a mound of outdated 1980s garb piled high in the centre of town, and meander your way through kilometres of unkempt, bumpy runs. So it may not be the 'best' destination in the world but it's certainly the weirdest to date and offers the intrepid skier an absolutely unique experience. But get here fast! Building of 11 top-class resorts and the employment of foreign experts will undoubtedly mainstream this insanely appealing skiing spot.
A mecca for extreme skiers in South America, Las Leñas is most renowned for being home to one of the longest runs in the world. The black rated hub is set amidst spectacular Andean scenery bordering the provinces of Mendoza and Rio Negro. This being Argentina, means that what you'll find here is European-quality infrastructure and services but at a mere fraction of the price. If that's not enough, you'll also be in the heart of wine and chocolate country, so what more could a skier ask for?! Steep run junkies and lovers of cat-skiing will salivate at the very sight of Las Leñas. But be warned…take a guide if you're unsure of your skills as this is one of the most avalanche-prone areas in the world.
The Andes, one of the best places to ski in the world
Comments
comments