Explore Ancient Churches in Perast, Montenegro
Nestled between Croatia, Serbia and Albania, Montenegro is on roughly the same latitude as Rome and enjoys around 150kms of Mediterranean coastline on the Adriatic Sea. Much like it's neighbouring countries in Southeastern Europe, Montenegro suffered a crippling blow to its tourism industry in the 1990s during the Yugoslav wars but is now emerging as one of the top travel destinations in Europe and it's easy to see why. Home to two UNESCO World Heritage Sites, the Natural and Culturo-Historical Region of Kotor and the Durmitor National Park, Montenegro has also seen 6 entries on UNESCO's "tentative" list in the past 5 years. Aside from the well-documented gems lie a collection of picturesque towns interspersed around the countryside; Perast is located at the foot of St. Elijah and is one of the most beautiful places you'll have the opportunity to visit.
Although Perast is a charming and peaceful town, its history is colourful, to say the least. Fought over by various empires throughout the centuries, the influences of these conquests are mirrored in the old structures that abound the town. Perast is located 107 kilometres from the capital city of Podgorica and is about a two-hour drive. The town hugs the Bay of Kotor, a 28km inlet from the Adriatic Sea which is dotted with many beautiful churches and a popular destination with cruise and sailing ships alike.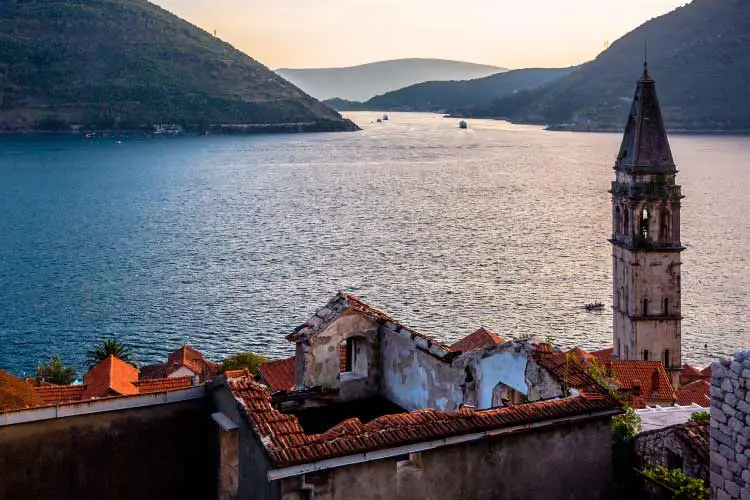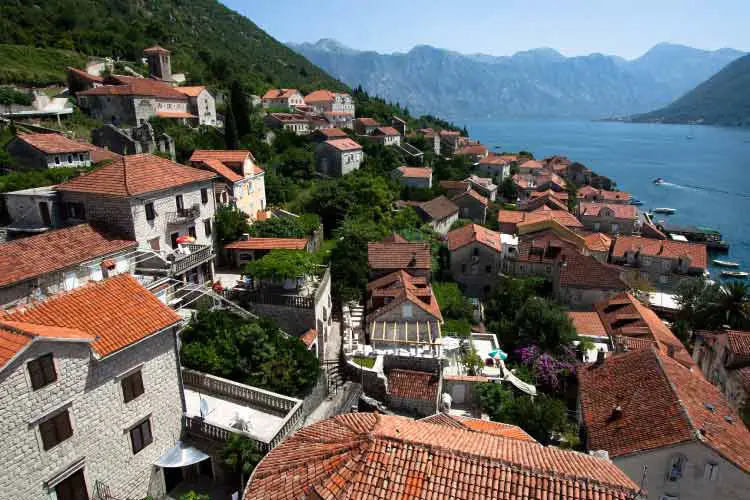 One of Perast's most visited attractions is "Our Lady of the Rocks", an artificial island which houses a church of the same name; a peaceful five-minute boat ride can be taken from the mainland to get there. The church houses paintings, silver votive tablets, a famous votive tapestry, and various icons and objects you could spend hours pondering over. From there, you can catch a glimpse of St. George Island, named after the patron saint of Kotor. The island is uninhabited and is surrounded by stonewalls where you will find a Benedictine monastery from the 12th century and a cemetery where old nobility from Perast were buried.
You might be surprised to learn that this small town with a population of around 350 is home to nineteen palaces, built during the 17th and 18th centuries, along with a total of eight ancient churches. It's worth taking the time to visit all of the palaces and churches in Perast, not only to gaze at their magnificent structures but to learn the important role each has played in the history of this interesting town. Furthermore, the Palata Buiovich has been converted into the Museum of Perast where you will find artefacts, portraits, weapons and artwork, mostly donated by the locals. Afterwards, relax on the promenade overlooking the bay and mountains and begin to plan your next trip to Southeastern Europe!