Grand Ducal Palace, Luxembourg's Most Opulent Attraction
The tiny country of Luxembourg sits in between Germany, France and Belgium and covers just over 2,500 square kilometres; it is the second smallest member of the European Union. However, what the country lacks in size, it more than makes up for in its economy and heritage; Luxembourg has the highest GDP per capita in the world as ranked by the International Monetary Fund and the World Bank and is the only remaining country in the world classed as a grand duchy. A grand duchy is a territory whose head of state is also a monarch, called a grand duke or a grand duchess. Luxembourg has been a grand duchy since 1815 and the Grand Ducal Palace, home of the Grand Duke is one of the country's main attractions.
As one might expect the residence of the grand duke is quite spectacular and luckily enough, parts of the palace are open to the public. The Palace of the Grand Dukes also known as Grand Ducal Palace was built in the 16th century and was initially used as the city hall. Having been renovated several times over the centuries, the current structure exhibits some of the finest Flemish renaissance architecture in Luxembourg. The palace is guarded by the military of Luxembourg and the changing of the guard has become quite a spectacle.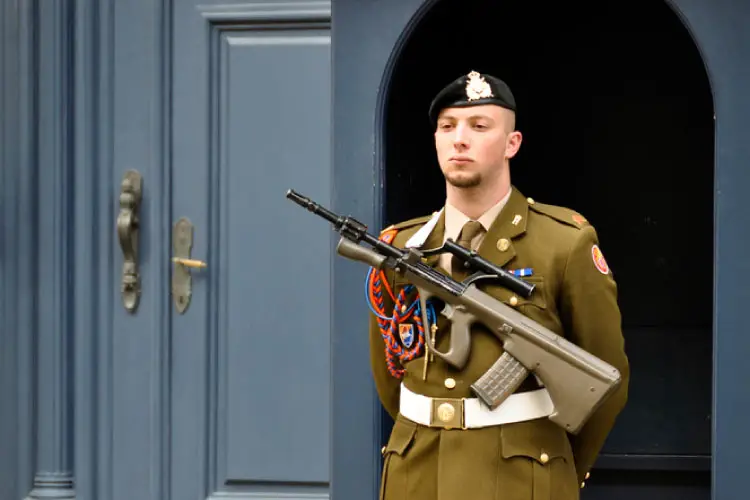 The building has been the home to the dukes and duchesses of Luxembourg since 1890, although it was occupied for several years by the nazis during world war II. The palace is used to house foreign heads of state and is a favoured location for state banquets throughout the year. The interior of the building is simply spectacular with wide marble staircases leading up to huge white function rooms, accented with gold trim and curtains. Chandeliers hang from the ceilings and the walls are decorated with old paintings, housed in thick, luxurious golden frames.
If you're in Luxembourg between July and September, the "Changing of the Guard" ceremony takes place outside the front of the palace and consists of a wonderful fanfare and procession, starting in the nearby streets of Luxembourg City. The band is followed by a group of guards who move in perfect synchronization with their guns positioned proudly across their chests. As you would expect, the guards swap positions and the procession and fanfare set off again from the front of the palace into the surrounding streets. After spending some time admiring the opulence of the grand palace, make sure you visit the old quarters and fortifications, a UNESCO World Heritage site not far from the palace for a perfect end to your day.