Larnaca – Ancient Relics & Flawless Beaches
The beautiful city of Larnaca sits on the southeastern corner of Cyprus, looking out across the far eastern portion of the Mediterranean Sea. It lies on almost the same longitude as Tripoli, in Lebanon and boasts a wonderful Mediterranean climate. The third-largest city in Cyprus, tourism plays a massive part in the area's economy, with over 75% of the labour force made up of service industry employees. Larnaca has a thriving arts scene and is home to many museums, art galleries and a fascinating system of underground tombs that are of great archaeological significance. In fact, its name translates in Greek to coffins, paying homage to the many burial sites found there.
Given its modern-day popularity, it is no surprise that the town has been fought over for many centuries, and a number of beautiful old structures still stand.  The city was originally named Kition and was established over 3000 years ago in 13th century BC. In addition to the minerals found on the island, Larnaca was an important port location and the city was controlled by many of the famous civilizations including the Greeks, the Persians and the Romans. We highly recommend visiting Larnaca castle, which has an interesting history; originally constructed by the Byzantine Empire, the castle fell into disrepair and was occupied by the Germans in World War II. Today the castle has been converted into a museum and open-air theatre and is an excellent location to lean a little more about Larnaca's fascinating history.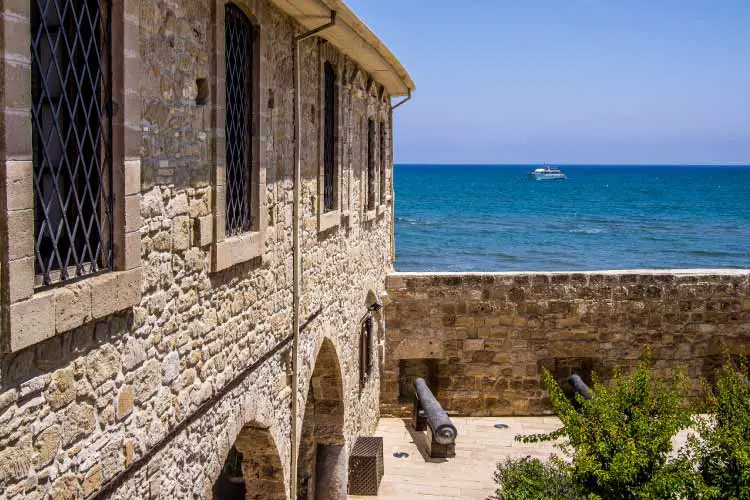 Summer is the most popular time of year for tourists in Larnaca, although the weather isn't exactly dismal in the winter either! The town is essentially broken down into two sections, the city centre which holds many of the older buildings in the city, and Larnaca's promenade, Phinikoudes where you will find upscale hotels, restaurants and a long, clean and beautiful beach.
Aside from the aforementioned fort, there are many landmarks you should visit while in Larnaca, such as the Church of Saint Lazarus. It is said that Lazarus of Bethany was raised from the dead by Jesus Christ and became the bishop of Kition. Upon his death, the church that stands today was erected over his tomb and his sarcophagus can still be viewed in the church to the day. Another interesting site is Larnaca salt lake, where flocks of pink flamingos can be seen in the winter. The lake is an important wetland area in Cyprus and is home to many forms of flora and fauna. If you're planning a trip to Cyprus, don't miss a chance to visit Larnaca, this laid-back Mediterranean city has so much to offer and exhibits the perfect combination of modern amenities and fascinating ancient relics.