Caernarfon Castle – Captivating Architecture in North Wales
The town of Caernarfon in North Wales is historically known as a heavily fortified port; an important town given its location on the Menai Straits, which separate the island of Anglesey from mainland Britain. Today the population of Caernarfon is around 10,000 people and much of the industry is centred around tourism, with popular attractions including the Welsh Highland Railway, its 100-year-old golf club and of course, Caernarfon Castle.
The development of the town itself is intertwined with various fortified structures, build first by the Romans around AD 80 and deserted upon their departure around the 5th century. Situated along the rim of the Seiont River, the existing structure was built by King Edward I of England and was constructed during the 13th century. Rumoured to be modelled on the walls of Constantinople, its imposing edifice features distinct polygonal towers with walls over 6 metres thick. The castle is considered to be a symbol of English dominance at the time, especially considering the town of Caernarfon and the surrounding area was known for its anti-English tradition.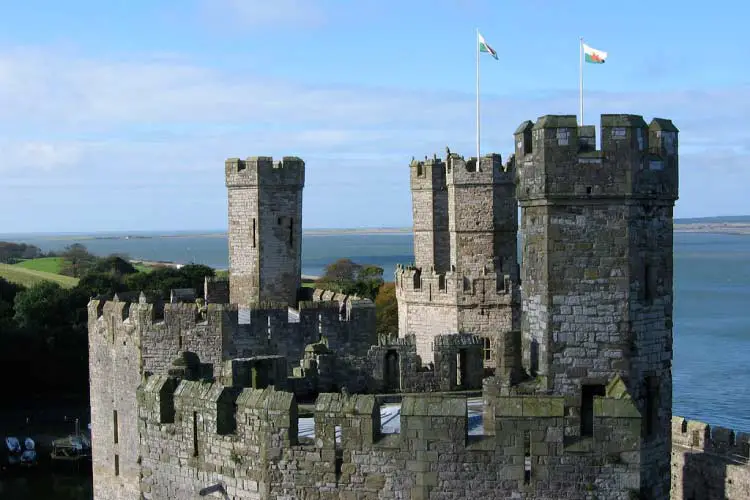 One of the most famous Medieval Castles in Britain, Caernarfon Castle was a product of the English invasion of Wales in 1283 after the war had broken out the previous year. Part of Edward I's "Iron Ring", a series of castles built on the coast, the appearance of the castle is quite different from other powerhouse castles built at the time such as Beaumaris. One reason for this is the function of the castle, as well as being fortified and home to a permanent garrison, Caernarfon Castle was also the seat of government and an adored royal palace; in fact, the castle was the site of the birth of Edward's first son in 1284. The town of Caernarfon itself is surrounded by an equally beautiful wall and is well visiting before or after the castle.
The castle is open to the public 361 days of the year, closing only around Christmas and on New Years Day. The beautiful towers offer spectacular views of the sea and surrounding coastline and afford the opportunity to imagine the soldiers or watchman who would have stayed up all night, shivering in the cold air, accompanied by the bright stars in the night sky, scouring the horizon for enemy ships. Although discovering the nooks and crannies of the castle will keep you busy for hours, do spend time at the Royal Welsh Fusiliers Museum which is located right inside the castle. The museum showcases extensive exhibits, models, photographs and films that relive the glory days of Caernarfon Castle, and the history of the oldest infantry regiment in Wales. The importance of Caernarfon Castle is unquestionable and was validated further in 1969 when Prince Charles was crowned Prince of Wales inside its walls and then in 1986 when it was added to the UNESCO list of World Heritage Sites.