Arequipa – Visit Peru's Beloved "White City"
Sat dauntingly in the shadow of the mighty El Misti, Arequipa is fittingly referred to as "The White City", it's buildings constructed from white volcanic stones called sillar. With its Historic Centre listed as a UNESCO World Heritage Site, the city of Arequipa is of great historical importance, famous in Peru for its economic value it is currently the second most industrialized and second most populated city in Peru. In a country most often associated with Machu Picchu, Cuzco, Nazca and a handful of other Incan sites, it's not hard for such an otherwise stimulating city to slip under the radar, but those who discover this vibrant city will experience a culture fuelled with passion, fantastic cuisine and some of the most spectacular landscapes in South America.
Founded in 1540 by a Spanish lieutenant, Garci Manual de Carbajal, the town at the time was established not long after the conquest of the Incan Empire and was declared a city one year later by Charles V. The town remained under the control of the Spanish until the wars of independence swept the country in the 19th century although the city has famously held on to its Spanish ties. Arequipa has seen many forms of revolution in the last two centuries and this fiery passion can still be seen today, albeit in a much more civilized manner. Today this beautiful city is celebrated amongst its population and is home to more than 15 universities and the aforementioned Historical Centre which includes several stunning monasteries.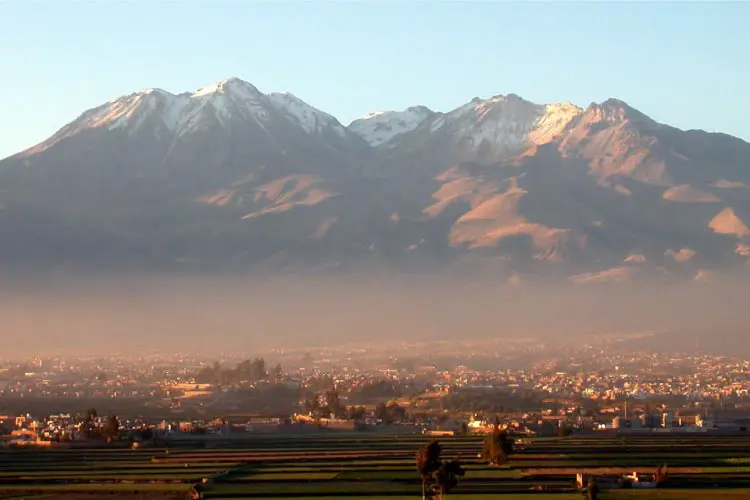 Arequipa's propensity for seismic activity has prompted many advancements in its architecture over the centuries. Most notably the use of resistant stone, sillar after the 16th-century earthquake, provided an answer to the tremors caused by the seismic activity that frequented the region. The Historic Centre can be defined as the initial colonial settlement, starting at the Plaza de Armas and extending for 50 blocks around the Plaza.
The Santa Catalina Monastery, famous for its blue and red walls still houses a group of around 20 nuns to the day. Built in the 16th century, the monastery has an interesting history; initially intended for only the upper class, the building housed many servants and slaves and a large dowry had to be paid by the family of each resident. It was reformed in the 19th century after developing a reputation as less of a religious building and more of a social experience and is today open to the public. Another beautiful building in Arequipa is the Basilica Cathedral of Arequipa, dating back to the very beginning of the city in 1540. As with many of the city's structures, the Cathedral has had its problems with earthquakes and has been restored many times. Today the Cathedral is one of Peru's most famous and considered an excellent, if not unique example of colonial architecture.