T

here's nothing quite as wonderful as tucking into a dish that sets your taste buds alight in all the right ways. With bold flavours, exotic ingredients, fragrant herbs and pungent spices on offer in destinations around the world, good food is almost a reason in itself to pack your bags and travel.

So if you're a current or aspiring globetrotter eager to seek the planet's most bustling food markets, top class restaurants and tempting street food, then look no further. In no particular order, here is our list of the best places to eat in the world, bound to make your mouth water!

Thailand is home to what is undoubtedly one of the best cuisines in the world. With fresh ingredients and a tantalising blend of sweet, spicy and sour flavours, its curries and noodle dishes, such as the world renowned Pad Thai, are not to be missed. Bangkok has many excellent restaurants, but it would be crime to visit this city without sampling its street food. Follow your nose and head to Sukhumvit Soi 38, lined every evening with an array of sizzling stalls. For less than the typical price of a cup of coffee, you can tuck into a deliciously salty noodle soup with barbecue pork and greens, slurp the nourishing water from a young coconut and still have change left to spare.

Montreal is the city of brunch. If you're a fan of the mid-morning feast, you'll delight in this city's choice of eggs any style you like, accompanied by pancakes, fruit, potatoes, meat and more, drowning in the ubiquitous maple syrup – and in huge portions too. Prepare not to eat for the rest of the day! This city is also famous for its poutine – a classic French Canadian dish of potato fries topped with meat, gravy and cheese curds. Tastier than it sounds, you'll be won over by the tempting variations on offer. Another dish to try here is the smoked deli meat, best enjoyed with bagels, Swiss cheese and gherkins. With its charming old city packed with French and European eateries, Montreal has more restaurants than any other in North America outside of New York, so definitely one for your globetrotting gourmet tour.

This highly sophisticated city has plenty to offer food lovers; from posh champagne brunches in five star hotels to cheap open air Asian food markets selling delicacies, including Malaysian laksa soup and otah-otah – fish fillets blended into a mousse with light spices, herbs, coconut milk and kaffir lime leaves. Indeed the Malaysian, Chinese and Indian influences are hugely evident Singapore's cuisine, but let's not forget this city was under British rule for over a century, before it declared independence in 1963. Lift your little finger as you sip afternoon tea and nibble on neat triangle sandwiches among the flowers of the spectacular Gardens by the Bay, for a uniquely Singaporean dining experience.

Italy is a natural choice for gastronomy fans. There's the focus on top quality ingredients – the creamiest of cheeses, the most succulent tomatoes – and the globally loved dishes that draw you here: pizza, pasta, risotto, gelato, the list goes on. Historically, there is no such thing as 'Italian food' – instead there are proud regional dishes, from when the country was a collection of kingdoms. The attractive redbrick university city of Bologna is home, of course, to the rich, red, meaty Bolognese sauce, known here as ragu and traditionally eaten with tagliatelle pasta. The city's other local dishes include tortellini and the large heat-cured pork sausage known as mortadella. It's not all about tradition though. Innovative restaurateurs are opening up concept restaurants, including the hip E' cucina Leopardi – a favourite among locals. This place has no menu: simply pick your choice of meat, fish or vegetarian and alert the staff of any allergies or preferences, and the chef will whip up a tasty feast for you.

Come to Belgium for the real mussels from Brussels – and much more. This small European city may be better known for its bureaucracy but its culinary offerings are often overlooked. Let's not forget that this is the home of decadently rich chocolate (it's taken very seriously here), warm griddled waffles and more locally brewed beers than you can shake a stick at. Did you know that French fries actually originated in Belgium? Consumed with the aforementioned mussels, this classic dish is not to be missed. There's something of a foodie revolution happening in this city, including an intriguing 'bistronomie' movement. A trip to Brussels could see you sharing large plates of Ethiopian food in a trendy restaurant, sampling the freshest seafood and snails, browsing the hugely popular food markets or dining on beautiful food among the beautiful people at super stylish eatery Belga Queen.

Is the UK's reputation for bad food justified? Home to some of the world's finest chefs and culinary innovators, good food has become an obsession here in recent years, with humble pubs becoming gastro pubs and cooking shows taking over the TV schedules. London offers an extraordinary range of eating options from its ethnically diverse population, from Korean and Latin American to Japanese, Turkish and everything in between. Browse Borough Market for colourful foods and ingredients from all over the world; tuck into quality street food from a pop up restaurant or food truck; or dine at one of the city's fine restaurants, which include two of the top 10 best restaurants in the world. If London is anything to go by, then Great Britain must surely soon become synonymous with great food.
Eat steak in Buenos Aires and you're in for a treat, as its high quality beef is served with all the sauces and sides you could possibly imagine.  And of course it's washed down with the finest red Argentinian wines. But Buenos Aires is a foodie city for many more reasons than this. With beautifully presented fruit and vegetable stores on every corner, it's clear that quality fresh food is important to the locals. Try the street food, including the irresistible empanada pastries; see if you can get an invitation to one of its 'closed door restaurants' inside a chef's home; or find out how the city's chefs have fused South American and Japanese cuisine for some of the most intriguing menus around.
With gastronomic influences from India, China, Indonesia and Thailand, it's perhaps no surprise that eating is Malaysia's self-declared national pastime. The country's melting pot cuisine is temptingly cheap and best eaten from one of Penang's hawker food stalls which line the streets every evening. It's easy to fill your belly with dish after dish: delicate fish ball soup, noodles with barbecued pork, sweet chilli chicken and sumptuous pork satay skewers accompanied by fresh cucumber. Wash it down with chilled exotic fruit juice, then continue with a nasi goreng rice dish, and spicy tofu parcels wrapped in a banana leaf.  For a heavenly selection of international dishes for your dinner, all under one roof, head to the Red Garden food paradise.
San Francisco is a Californian city with a distinctly cosmopolitan attitude. Home to top name chefs and restaurants, its diverse neighbourhoods hold all manner of delights for the foodie traveller, from Chinatown to swanky Nob Hill, Fisherman's Wharf and the Tenderloin district, otherwise known as Little Saigon. Garlic fans should pack some mints and head to The Stinking Rose restaurant in Little Italy, which celebrates this pungent bulb with a contemporary menu of garlic-adorned California-Italian cuisine. San Francisco's local speciality is not to be missed: a hearty clam chowder, served in a sourdough bread bowl that you can eat afterwards. The fact that the Napa Valley wine region is a short drive away is just another reason to visit and consume to your heart's content.
The 'coolest little capital in the world', this picturesque New Zealand city has a vibrant café culture. Its many restaurants benefit from the gourmet local produce, including freshly caught green-lipped mussels and oysters. Top quality wines are on hand from the nearby world class wine-growing regions. Every year the city hosts a week long food festival: it's a real passion here. It's not just about New Zealand's famous lamb – Wellington's large Asian population has resulted in a wide choice of ethnic restaurants to suit all tastes. For a uniquely Kiwi culinary experience, visit one of the restaurants putting a fresh spin on indigenous Maori food, which is traditionally slow cooked in a hole in the ground, producing the most succulent and tender meat you'll ever eat.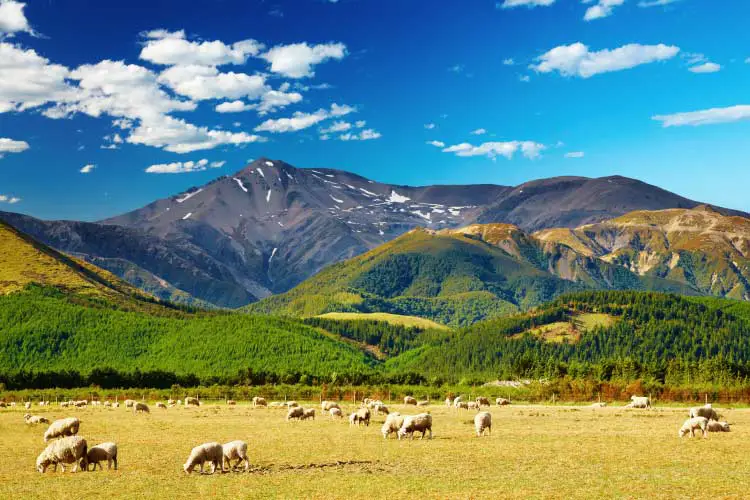 Have you eaten somewhere awesome lately? Let us know in the comments below
Comments
comments